Get Forklift Prices
Forklift Business Trends
Forklift Business Trends: The Latest Happenings in the Industry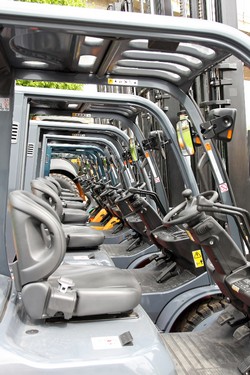 If you're on the lookout for the best forklift to meet your business's needs, it helps to shop beyond the latest bells and whistles in forklift features. Paying attention to the forklift industry will give insight into the newest technologies that have been integrated in forklift design.
Forklift trends for the future
According to an Industrial Truck Association Business Trends survey for 2012, tech-forward forklift features, like LED lights, will become of even greater importance in forklift design. 100% of survey participants in 2012 planned to use LED lights in forklift display by 2017.
Operator efficiency and operator safety are also notable concerns for forklift manufacturers. In the same ITA survey, participants rated the importance of optical/visual aids mounted on forklift forks/masts to improve safety at 6 out of 10 and efficiency at 6.1 out of 10.
The Industrial Truck Association summarized forklift trends in their market forecast for 2012:
Market continues to seek value.
More rental and lease options.
More manufacturers on the market.
Improved efficiency, safety, and technology.
And speaking of technology, top forklift manufacturer Crown proudly announced new forklift designs and technologies for the IMHX 2013 to improve safety, conserve energy, and boost operator efficiency. All new Crown models in the ESR 5200 reach truck series will be equipped with Intelligent Optimizing Cornering Speed to support enhanced productivity and operator confidence; the system is designed to adjust speed and acceleration automatically when a truck drives in or out of a curve.
Jungheinrich, named number three forklift manufacturer in the global top 10, was recently awarded the International Forklift Truck of the Year for its design and innovation. The Jungheinrich ETV/ETM 216 reach truck received accolades for its smooth handling, energy efficiency, and ergonomic driver support; it is one of the only sit-down mast reach trucks on the North American market.
New forklifts hitting the market are better than ever when it comes to advanced design and performance. Instead of shopping for baseline features alone, consider some of the newest forklift technologies that could transform the way your job site operates.
*Updated: Forklift Industry Expectations for 2015
The rise and fall of forklift sales and demand is closely tied to the manufacturing, construction, wholesale trade and transportation sectors. If you think about it, every business that moves materials is likely to own or lease a forklift or pallet jack. When these businesses see an increase in activity, their good fortune is reflected in increased sales of new and used lift trucks.
While the global economic recovery cannot be described as "booming" it has been steady in a number of areas including the U.S. and Canada and that would appear to bode well for forklift sales and service companies in the coming years.
The Numbers for 2014 Are In
The authority source for the industry, the Industrial Truck Association (ITA), has put together the 2014 data for United States Factory Shipments.
Electric rider trucks shipped 57,543 units up 9.6% over 2013
Motorized walkies totaled 53,398 or about the same as 2013
Internal combustion trucks equaled 75,040 units up a very healthy 13.2% over 2013
The recovery in construction and heavy manufacturing sectors are believed to have had a significant influence in the spike of internal combustion forklift sales. These businesses typically require higher capacities and/or outdoor operations, two characteristics of IC trucks.
Surprising Trend for 2015 – Continued Growth in New Unit Sales but Smaller Fleets Overall
Industry observers expect continued revenue growth for the forklift industry over the next five years as the economy continues to improve creating more demand for material handling solutions. Falling steel costs and advances in automation of production will keep the market healthy yet competitive.
With predictions for continued growth, it comes as something of a surprise that in an ITA survey, 68% of forklift users predicted that overall fleet sizes will be reduced. Digging deeper into the survey uncovers the "why" behind the number of units
Forklift users anticipate that increased productivity and durability of new units will result in retiring older units without replacement and/or reducing the number of units leased. If three new trucks can do the work of four older trucks, users will jump on the opportunity to significantly increase their overall productivity.
Used Forklifts May Become Bargain Priced
If fleet size is reduced, those "retired" trucks have to go somewhere and that somewhere is the used forklift market. Dealerships could play a larger role in the "pre-owned" lift truck business much the same as new car automotive dealers have come to dominate the used car market. This is particularly true given the increasing trend for large users to lease their fleets.
This can be good news for organizations that shop the used market for their trucks. While there won't be a glut of units flooding the market, there will most likely be a larger supply of relatively late model (5 to 8 years old) forklifts competing for the dollars of a largely unchanged demand side.