Get Forklift Prices
Forklift Attachments
Forklift Attachments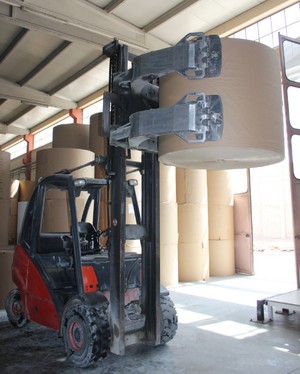 For many businesses, a standard forklift is more than enough to do the job. After all, a forklift is a versatile machine that can be put to more than just one use. But there are times – especially within certain industries – where a standard forklift truck doesn't quite cut it.
If you need your forklift to do something it can't already do though, don't despair – several manufacturers supply a range of attachments that allow your forklift to do more than it was originally designed to do. From double pallet lifting, through side loading and crane hooks; before you buy a brand new machine, make sure you check through our list of common forklift attachments – it could save you a huge headache (not to mention a pile of cash).
Most Common Forklift Attachments
This list will help you discover the key uses of the most commonly used forklift attachments. Use this list to find out if the extra functionality you're looking for is readily available as a commonly used forklift attachment. Items on this list can generally be found in versions compatible with most standard models of counterbalanced rider forklifts, regardless of fuel type – but before you make a decision to buy an attachment, you should always make sure you know the exact specifications of the truck you'd like to use it with to ensure there is a compatible attachment available. You can compare forklift specifications and prices using our online Quote tool.
Double Forks (carry two different loads side by side at once)
Double forks are perfect if you often find yourself needing to move two smaller loads to the same destination – for example, if you have two customer orders that are being loaded onto the same delivery vehicle, then this attachment could save you a lot of time doing multiple runs, or a lot of money adding another forklift to your fleet.
This kind of attachment is most commonly supplied as a Single/Double Pallet Handler, which acts as a regular set of forks when closed, but can be opened out into double forks for carrying two pallets side by side. The benefit of this is that if you do not often need double forks, you can simply close them – there's no need to constantly install or remove the attachment. Of course, it goes without saying that although double forks let you carry two loads, they do NOT let you carry double the weight – the two loads combined must still be within your forklift's maximum load capacity limits.
A new single/double pallet handler attachment will cost you between $1,000 and $5,000 depending on the weights of loads you are lifting, and the type of forklift you are using.
Fork Positioner (adjust fork width for handling wide or awkward loads)
Fork Positioners are attachments that let you adjust the width of your forks to handle particularly tricky or wide loads.
These attachments are particularly useful for forklifts that do a lot of delivery truck unloading, as they usually allow you to place the forks under the load, and then adjust the width of the forks to ensure a good weight distribution before the forks leave the truck.
Although many standard forklifts can indeed be used to handle a variety of load dimensions, if you are going to be lifting a lot of wide loads – particularly from a delivery vehicle – then a fork positioner could be the perfect attachment.
The prices of fork positioners vary greatly depending on the kind of forklift you'll be using them with – they can be purchased from as little as $300-400, to as high as $3,000-6,000 and beyond.
Hooks (turn your forklift into a mini crane)
Hooks are a highly cost-effective attachment that can really boost the versatility of your forklift truck by giving it crane-like functionality.
Attachments generally come as a single device that slides over the forks and is then secured. Beneath it hangs a hook, which you can then use to lift loads with, using the forks as an overhead arm.
Easy to attach and remove, lightweight hook attachments for small and medium forklifts can be picked up for as little as a couple hundred dollars, and could be one of the most useful investments for improving your forklift – especially if you need to lift loads that cannot be loaded onto pallets, but that can be hooked from above. Remember though that for lifting very heavy loads, you can expect to pay more than this.
Man Basket / Access Platform (for letting your operators work at heights)
An Access Platform (also known as a Man Basket) is an attachment for lifting people up with your forklift.
This helps in many ways – from painting the ceiling through to order picking – and can be a very versatile attachment to invest in.
Many larger companies use dedicated lifts for helping their workforce work at heights, but if you can't quite justify buying a dedicated lift for this, then you can pick up a pretty good quality man basket for around $1,000 – this will generally buy you a basket with a sturdy safety cage, storage space for tools, anchorage for your safety harness, around 700-900lbs capacity and probably even a non-slip floor. Access platform attachments can also be designed to lift more than one person.
Multi-Purpose Clamps (grab & secure the loads you're lifting)
You can acquire very specific clamps for your forklift, but a multi-purpose clamp is useful for a very wide range of loads that need a different lifting style than the standard forklift.
A multi-purpose clamp is a general title that can cover a range of clamps, but in a nutshell, this attachment will allow your forklift to 'grab' the items you're trying to lift – in fact, when fitted with one of these clamps, a forklift will often be referred to as a Clamp Truck.
This is a good attachment if you're lifting items that aren't on pallets, like bales of hay or large cartons.
Pole Attachments (perfect for picking up rolls of carpet)
Pole Attachments are not industry-specific, but they are most popular with carpet wholesalers.
Essentially, they turn your forks into poles that can be easily and accurately inserted into the middle of the roll for more consistent lifting.
Larger versions of these attachments can also be used for picking up metal coils.
Roll Clamp (grabbing and/or rotating items like barrels)
Similar to a multi-purpose clamp, a roll clamp secures an item being lifted by using a hydraulic gripping mechanism. These clamps are designed in a circular fashion to accommodate cylindrical items like barrels or large rolls of paper, and many have the ability to rotate.
This rotating function can be a very versatile function – from tipping liquid from a large container, to picking up horizontally-stacked barrels and placing them in upright position, to loading vertically-stacked paper into a horizontal printing press.
A low-cost non-rotating roll clamp attachment suitable for approximately a 50 gallon barrel might set you back around $600-$800, but the larger industrial attachments, or those with rotating functionality, can be much more expensive (and complicated to operate) – generally, larger businesses with a constant need for a roll clamp or barrel/roll rotator, will have a permanent machine for the job. But for occasional use, or if you don't have quite the full investment for a big permanent addition to your fleet, a roll clamp attachment is a great cost-effective solution.
Scales (weighing loads while lifting)
Attachments are available that give you an accurate reading of a load's weight – this can be useful in so many ways, and cuts out the need to weigh loads using an external scale that the forklift has to place the load on (it weighs it as you lift it).
Scales are a very efficient attachment if you regularly need to weigh items – the time you will save by weighing on-the-go can be incredible, and in the long-term, a scales attachment can be a hugely valuable investment. However, the attachments can be expensive – a high-quality scale attachments for weighing loads of up to around 5,500lbs can cost in the region of $6,000-$8,000 dollars, which is not always easily affordable for smaller businesses.
Smaller businesses who want to a mobile weighing solution however, could probably find a hand-operated wheeled fork weighing scale able to weigh loads of up to 8000lbs for as little as $1,500. This kind of device is not an attachment, meaning you are less able to weigh loads as you are shifting them – but it certainly makes the weighing process faster, as you don't need to carry loads to dedicated weighing stations.
Side Shifter (moving loads laterally without having to reposition the truck)
A Side Shifter gives much greater flexibility and maneuverability when positioning loads, as it allows the operator to move the load laterally (sideways) without having to reposition the truck.
Unlike many attachments that can be fixed to equipment by the end user (with the right experience and skill), most side shifters must be installed by the manufacturer as a more permanent fixture on the forklift.
Side shifters suit a range of purposes – a great example of this would be a warehouse with narrow aisles: Rather than having to turn the forklift to face the rack before the load is placed, a side shifter allows you to drive down the aisle and then shift the load sideways onto the rack.
Side shifters able to handle approximately 5,500lbs can be picked up for as little as $300.
Telescopic Forks (for double-deep pallet stacking)
Telescopic Forks add extra length to your forklift, and allow you to move two loads at once (one behind the other) for double-deep stacking. Double-deep stacking is most common in large warehouses handling high volumes, and can help put every inch of space to efficient use.
Standard forklifts are generally not too well-equipped for stacking pallets deeper within a rack, so if you have the storage space compatible with double-deep stacking, a telescopic fork is a sound investment.
A telescopic fork attachment able to handle around 10,000lb loads is likely to set you back around $5,000-$6,000.
Conclusion
Forklifts can be made even more versatile if you find the right attachments to help do specific jobs. Some of these attachments are easily to install and remove, others can be installed as a one-time thing and will not affect the forklift's traditional uses. Some attachments however are designed as permanent changes to a forklift's function.
If you have a specific requirement that your existing forklift doesn't meet, then before buying a new forklift, check if an attachment could be the right solution. Remember, you can easily find prices and specifications of forklifts and attachments using our online forklift price quote tool.