Get Forklift Prices
Forklift Maintenance Schedule
Benefits of Scheduled Forklift Maintenance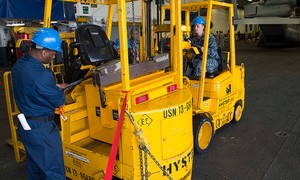 Scheduling forklift maintenance is difficult when implementing new equipment, but keeping to a strict schedule has several benefits. First, you will help your forklift last longer and avoid expensive repairs by conducting frequent and thorough maintenance. Second, maintenance should be a requirement in forklift safety procedures, to protect workers from accidents and failing equipment. Third, a well-maintained forklift will operate more dependably than a neglected one, making it easier to complete heavy-load tasks.
If you buy your forklift new, there is a good chance it will arrive with a suggested maintenance plan you can use to keep your equipment healthy. Incorporate this maintenance plan into your workflow. Ideally, forklifts should receive full maintenance at least every few months — or earlier, in more demanding environments.
Maintenance Best Practices
Maintenance will depend on the type of forklift you use and where you are in your schedule of care, but these best practices are common to most in-depth maintenance procedures.
Daily Checklists: Daily checklists will help you keep the forklift operating at peak condition. These checklists control proper shutdown procedures, fuel management, and appropriate start-up steps, among other important factors. Gas, hydraulic fluid, and oil should all be carefully tracked.
Protective Equipment: Workers should always wear protective equipment when working around forklifts, especially forklifts that use lead-acid batteries and electrical charges. Goggles, gloves, boots, and aprons are all common protective gear.
Safety Precautions: The forklift should never be able to fall or collapse. Hoods should be supported, tires should be safely blocked, and lifts should be attached to counterweights to prevent them from tipping over when they are unbalanced.
Magnetic Particle Testing: Magnetic particle testing is a reliable method of checking welds, hoses, fittings, and couplings for any signs of cracks or damage. These are the weak spots of forklifts, and the parts most likely to break through repeated use and wear. Test not only fit and rust but also potential cracks to spot problems early on.
General maintenance schedule
Your maintenance schedule is divided up based on what needs daily attention versus what needs monthly, quarterly, or semi-annually maintenance (daily, monthly, 3 months, six months). The following is a guideline, change it according to how hard or easily you use your machines. All maintenance should be done by qualified personnel.
Daily maintenance:
Visually inspect for leaks
Any obvious damage that may hinder the vehicle
parking brake, tire condition, horn, and steering wheel
check your mast and hydraulics by raising and lowering your forks
check and replace fluids as needed
Monthly maintenance: (Roughly every 200 hours of operation)
Make sure the mast and chassis are efficiently greased
Check your lift and tilt cylinder ops, drive belt tension, and sparkplugs, distributor point, rotor and cap if applicable
Air filter cleaning/replacement
Engine idle and ignition timing on engine powered equipment
Oil change
Quarterly maintenance: (roughly every 600 hours of operation)
Check the play in your pedals, hand brakes, lift chain, carriage rollers, mast control, hydraulic oil pump, lift and tilt cylinder transmission and differential oil, fuel filter, crankcase ventilation, and hoses.
Clean radiator exterior and replace fuel filter
replace hydraulic filter
drain water separator on diesel equipment
(as needed) adjust the clutch bearing, mast bushing, tilt cylinder pins and chassis links
Six month checks: (roughly 1200 hours)
brake boosters
torque engine head bolts and manifold nuts
replace brake fluid, bearing grease, coolant, and fuel filter and strainer/ water separator on diesel equipment
Forklift Maintenance without Qualified Employees
If you do not have qualified employees with experience in proper maintenance procedures, creating your forklift schedule may prove difficult. There are two solutions to this problem. First, you can find training for a reliable worker and provide him or her with the necessary skills to manage forklifts. Second, you can use outside vendor services for forklifts, which can take care of intermittent, in-depth maintenance, while leaving everyday checklists up to you.
Lower-Maintenance Alternatives
If you want to find a forklift with fewer forklift maintenance requirements, look into forklifts that run on battery power or propane. These alternatives have fewer parts that need constant attention.