Get Forklift Prices
Crown
Crown Forklifts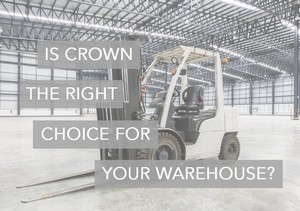 With more than 50 years' experience in the material handling industry, Crown Equipment Corporation has earned an excellent reputation for their award-winning range of electric forklifts.
But as well as designing, manufacturing and distributing these award-winning forklift trucks, Crown also appeals to warehouses looking for more than just high-quality, efficient machinery – they provide intelligent software that supports fleet management and complete warehouse solutions too, which offer design, layout and full fitting services for warehouses looking to become powerhouses of material handling efficiency.
As one of the largest forklift suppliers in the world, their extensive catalog caters to a diverse range of customer needs – from large warehouses that need powerful heavy-goods lifting, to smaller, more complex storage areas that require precise equipment for delicate material handling operations.
Crown places focus on developing trust-based relationships, and is passionate about supplying safe, efficient forklifts that reduce the cost of ownership and increase uptime for their customers through ergonomically designed machinery that offers superior comfort for the operator. They believe that by keeping operators comfortable, warehouses will be rewarded with increased uptime and efficiency from the people driving their machinery; they also believe that greater visibility for management allows subtle decisions to be made that will improve the efficiency of an entire fleet.
Are you looking for a reliable, award-winning forklift supplier that provides not just efficient, cost-effective equipment, but also products and services that help streamline fleet management? Continue reading to find out if Crown is right for you.
Extensive Product Range
Crown designs and manufactures a huge range of forklifts that cater to a wide variety of customer needs:
Heavy-Duty Industrial Forklifts (The C-5 Series)
Crown's C-5 Series is designed for power and strength – perfect if you're a major warehouse looking for an industrial forklift that can handle extreme loads.
4 Liter industrial engine
Durable components to reduce overheating and servicing intervals
20,000 hour lifespan
The forklifts in the C-5 series are designed with Crown's passion for increasing uptime in mind – heavier loads often demand more stamina from the driver, which is why the interior has been designed for maximum comfort and ergonomic control.
The C-5 range is truly the leader in heavy-duty industrial forklifts everywhere, and is unsurpassed in terms of long-term reliability and control when handling huge loads.
Durable, Lightweight Hand Pallet Trucks
For everyday use moving materials from A to B, you'll want something that's lightweight and durable, that will put in a lot of hard work for years to come. Crown's standard range of Hand Pallet Trucks meets this criteria perfectly – they are built to be durable, not disposable.
Low-cost & durable
Up to 5,000lb capacity
Perfect for everyday material handling
Looking for something more high-tech? For even better quality, superior comfort and longer-term value, Crown also manufactures an enhanced range of electric 'Walkie' Pallet Trucks: The WP3000 and WP3500 series.
Versatile Stackers for Smaller Warehouses
Just like the Hand Pallet Trucks and the 'Walkie' Pallet Trucks, Crown's 'Walkie' Stackers provide durability & flexibility when used every day, and offer smaller warehouses an outstanding, versatile stacking solution.
Models to handle 2000 – 4000 lb load capacities
5-Point weight distribution to reduce steering effort
Counterbalanced models available
These hand-operated electric stackers are assisted with technology that places more lifting responsibility onto the machine itself, instead of the operator, for more productive shifts and improved uptime. They are available in a range of specifications for handling different load sizes, weights, stacking heights and floor conditions. Our online Quote tool can help you find the right product and price.
Rider Pallet Trucks for Warehouses
The true staple of any reasonably sized warehouse, Crown's range of ride-on pallet trucks offers reliable, long-lasting forklifts that provide superior comfort to ensure maximum uptime from drivers.
Handles load capacities of 6,000 – 8,000 lb
Ergonomic design & power steering available for all models to ensure maximum operator uptime
3 different series to cater for End-Control, Side-Control or Center-Control
Counterbalanced Forklift Trucks (Stand-Up or Sit-Down)
Want the next level of rider pallet trucks? Crown's family of counterbalanced forklift trucks offer even more power, comfort and productivity-enhancing benefits.
The sit-down trucks come in two different designs – the three-wheel version (SC series), or the four-wheel version (FC series). While the three-wheel version is best-equipped for tight spaces requiring more precise maneuverability, the four-wheel design offers more durability and capacity to handle even higher capacity loads, and has what is described as the toughest, most durable frame in the industry.
3-Wheel Sit-Down: Available in models for handling 3000, 3500 and 4000 lb capacity loads
4-Wheel Sit-Down: Available in models for handling 4000, 5000, 5500 and 6000 lb capacity loads
Crown also offers a 3-Wheel Stand-Up model, which is similar in design and load handling capacity to the 3-Wheel Sit-Down model, but which requires the operator to perform standing instead of sitting. Despite this, the stand-up model has still been ergonomically designed to provide maximum operator comfort for attaining higher levels of uptime than alternative models from other suppliers.
Narrow-Aisle & Very Narrow-Aisle Reach Trucks
Crown's family of narrow-aisle and very narrow-aisle reach trucks offer control and precision in very tight spaces. These are perfect for your warehouse if you have really maximized on the storage space available, as the more space you use for storage, the less space you have left for maneuverability.
These trucks can operate at breakthrough heights, and offer cost-saving energy efficiency, with great traction control even in tight spaces and harsh environments. Unlike many alternative brands of narrow-aisle reach trucks, Crown's range offers
Smart traction & responsive controls
Documented reliability & service simplicity
Industry-leading travel & lifting speeds
Narrow-aisle are available in nine different models, and very narrow-aisle reach trucks are available in three. Load handling capacities range from 3000 – 4500 lbs, and trucks can reach up to 42' in height.
Other Products Available from Crown
Crown also manufactures and supplies a number of other machines that can be introduced to your fleet, for handling a wide range of material handling operations:
Tow Tractors: Crown's TR 4500 series is a range of tow trucks designed for pulling heavy loads around your warehouse, while providing maximum control and comfort for the driver. With Crown's Access 1 2 3® Comprehensive System Control and tactile feedback device, these tow tractors deliver more stability and control at higher speeds, and steering effort is reduced when travelling at lower speeds.
Stock Pickers: The SP3500 and SP4000 series are Crown's two flagship ranges of high-quality stock pickers that deliver enhanced visibility and control for people selecting stock from heights of up to 22ft. Tough enough to handle up to 3000lb loads, Crown's stock pickers offer more than just durability – they boast the industry's largest platform window, and 360 degree visibility. Because of this superior visibility, operators are able to work more productively when order picking, and safety when maneuvering up and down the warehouse aisles is greatly increased.
Wave® Work Assist Vehicle: Wave® is Crown's most lightweight, cost-efficient stock picker for helping your team to quickly reach awkward heights to grab smaller items, without the need for bulky ladder rigs. Wave® quickly turns a two-man job into a one-man job, and lets your operators reach heights of up to 17ft. Wave® is a product unique to Crown, designed for quiet, efficient work, and handles up to 250lb loads.
Accessories & Extras
Crown provides a range of complimentary accessories and equipment that most warehouses will find invaluable alongside the core machinery, such as:
Cleaners & Lubricants
Oils & Fluids
Aerosols & Paints
Gloves & Cable Ties
Sealants & Filters
First Aid Kits
Fire Extinguishers & Safety Equipment
Traffic Cones & Caution Tape
Warehouse Solutions
Perhaps the most common issue faced by warehouses looking for a way to improve their material handling operations, is the way their warehouses are designed, laid out and fitted. Some warehouses are not particularly well-suited to most designs of forklifts, stock pickers or tow tractors, and as a result, the efficiency of their material handling operations can take a significant dip.
Crown's vast expertise in the material handling industry comes in really handy here, and they offer complete Warehouse Solutions which can include a complete redesign of your warehouse, for maximum efficiency and improved use of the space and materials available to you.
Crown's Warehouse Solutions provide everything your warehouse needs to become an efficient material handling powerhouse, from supplying the materials to redesigning your entire layout. A few materials and services included in Crown's warehouse solutions are:
Storage Racks & Shelving
Shipping Supplies
Safety & Comfort Equipment
Wire Racks
Modular Offices
Fleet Optimization
In addition to their Warehouse Solutions offering, Crown specializes in Fleet Optimization. Fleet Optimization is the name Crown has given to their range of software, which is designed to make fleet management easier, and to further improve the efficiency of your operators.
Crown offers Fleet Optimization under two distinct products: InfoLink®, and FleetSTATS™.
InfoLink®
InfoLink is a real-time digital management platform that keeps you up-to-date on the current status of your fleet and operators. InfoLink® alerts you to the trends and patterns that are having the most impact on your company's bottom line.
InfoLink® is designed to help you in six key areas:
Compliance: InfoLink® makes it easier to manage equipment access and operator certification, helping you stay compliant
Impacts: InfoLink® alerts you to problems and identifies their source, which helps you reduce the impact of issues with your fleet
Productivity: In-depth statistics and analytics make it easier to see where productivity is at its best (and worst)
Utilization: InfoLink® helps you maintain an optimal fleet size, by working out long-term needs and seasonal trends
Energy: By recommending optimal tank and battery changes, InfoLink® can help you to prolong the life and productivity of your equipment
Service: You can even schedule equipment services directly via InfoLink®, to streamline repairs and minimize downtime
FleetSTATS™
If you don't need a complete management platform for your fleet, then you might prefer to use FleetSTATS™ - a simple system that tracks your fleet maintenance needs and captures individual truck maintenance costs over multiple fleets in multiple locations.
This helps you understand what you are really spending on maintenance, and gives you better control over your costs by helping you to identify opportunities to improve fleet performance.
Pricing
Crown aims to provide competitive pricing for their high-quality products, and their range of forklift trucks start from as little as $449 for a Hand Pallet Truck.
Crown does not publish most of their prices directly via their website, as their range is very wide and prices can vary depending on what supporting products customers require. Remember that you can get a direct quote from Crown using the Quote Tool on our website, and for information purposes, we've included a table below to give you a basic idea of what it might cost to buy a Crown electric forklift product second-hand:

Low End of Price Range
(poor condition, possibly missing parts)
High End of Price Range
(good condition, reseller warranty etc)
3-Wheel Electric Forklift (3500lb Capacity)
$2,000
$8,000
4-Wheel Electric Forklift (5500lb Capacity)
$4,500
$10,500
If you don't feel that a brand new forklift truck is within your company's budget, remember that Crown also offers rental and second-hand products.
Is Crown Right for You?
Whether you own a small stocking facility, or a chain of large warehouses, you can rest assured that Crown has a big enough range – and a wealth of experience – to deliver exactly what you need.
Their focus on improving uptime by providing a comfortable experience for the operator is apparent throughout their entire range, and their knowledge of warehouses and material handling could even help you to improve your operating efficiency.
To find the product you need, and to get a price today, head on over to our quote tool now.