Get Forklift Prices
Walk Behind Forklifts
Who Makes the Best Walk Behind Forklift?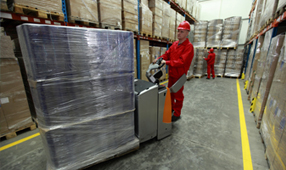 Few things are more instrumental to a busy warehouse than a walk behind forklift. Also called walkie straddle stacker, walkie stacker, and walkie reach stacker, these units require less training than the larger sit-down or reach trucks and provide exceptional utility and flexibility when accessing tight spaces to move heavy pallets.
With a load capacity up to 5,000 lbs. the walkie is an ideal forklift alternative for smaller warehouse operations, machine shops, dock staging and loading, moving outdoor yard materials, accessing tight spaces, stocking "big box" home improvement stores or to augment your forklift fleet.
There are even walkies that can be carried in a van that can offload themselves, pick up a pallet, lift it into the van and then reload itself. If you deal in palletized materials or heavy parts there is most likely a walkie application ideal for your business.
Having a high load capacity and the ability and a lift a load up to 80" makes the walkie far more flexible than a pallet jack while the walkie's price, both new and used, and ease of operation make them extremely attractive compared to a standard forklift.
Many of the major forklift manufacturers offer walk behinds but as we are about to learn, not all walkies are created equal.
Of the four major brands – Clark, Crown, Yale and Raymond – two consistently rise to the top of user reviews for their durability and ease of use: Raymond and Yale. And of those two, there also seems to be a consensus on which is the best. Let's start by looking at some of the claims and seeing how they compare.
Comparing the major features of a walk behind forklift
All manufacturers currently offer their most popular models in the $4,000 to $5,000 price range. But what you get for your money can vary wildly. The key thing to remember when purchasing any large piece of machinery is that the sticker price is often only the beginning of expenses related to your purchase. Here are a few of the factors that can drive up the cost of ownership:
Moving Parts – The more moving parts, the more things that can go wrong. While many walkies offer fancy electronic bells and whistles, many also come with core construction that minimizes the number of parts needed to perform most tasks.
For example, a Raymond walk-behind lift reportedly includes fewer moving parts than most other models, with users citing less maintenance, greater uptime and less cost overall. This is reinforced by the fact that one of their most popular models (the 8310) includes 40 percent less wiring in the handle, simplifying operation and maintenance through streamlined design. WINNER: Raymond.
Construction and Resulting Maintenance - Although costlier up front, a Raymond walk behind lift costs significantly less to maintain than cheaper models (reportedly 1/6 the cost according to some reports). Much of this can be attributed to a more robust construction.
As an example, the Yale walk behind forklift (MPB040E) includes a steel wrap-around bumper while the Raymond model includes steel reinforced components throughout, enabling it to endure more wear and tear. In addition, Raymond models integrate pull rods into their construction, as opposed to threaded rods that are known to strip, and use synthetic bushings that free you from having to grease the axles (eliminating one more line on the maintenance checklist). WINNER: Raymond.
Batteries – From walk behind lifts to their larger sit-down cousins, this is where one of the major expenses for a forklift comes into play. And it starts with the amount of routine maintenance required to keep the battery charged and filled with water (when applicable). Accessing a walkie's battery is straightforward enough but, as is the case with the Yale model, there are always the hazards associated with "watering" the battery itself.
Yale models use four 6V deep-cycle batteries. This is in comparison to the Raymond truck that includes the 24V maintenance-free power pack. The benefit in the Raymond design is that the maintenance requirements related to the battery are reduced to practically zero. Plus, the maintenance-free package also reportedly has a higher amp hour output (190 as opposed to 160) and can also be opportunity charged without adversely affecting the battery's lifespan. However it is worth noting that when the maintenance-free batteries do eventually wear out, they are more expensive to replace than the "wet" models. WINNER: Raymond.
That's the report from the field but like any acquisition decision, you want the best fit for your specific operation. Walk behind forklifts come in many flavors as the chart below describes:

| Manufacturer | Model | Load Capacity | Lift Height | Approximate Price |
| --- | --- | --- | --- | --- |
| Crown | B Series Lift Stacker | 2,000 lbs. | 67 inches | $16,500 |
| Raymond | RRS 30 Stacker | 3,000 lbs. | 74 inches | $16,758 |
| Yale | MSWO40-E Stacker | 4,000 lbs. | 72 inches | $15,389 |
| Clark | CSM 7 Walkie Straddle | 3,000 lbs. | 82 inches | $15,000 |
| Hyster | Reach Stacker | 910 lbs. | 86 inches | $10,200 |
One additional factor to purchasing a walk behind forklift, is the post-sale support offered by the dealership. This can be a major factor in cost of ownership if repairs are ever needed.
If you would like assistance in finding your nearest dealers, would like to review what's available in the way of used walkies, or are interested in customizing a price quote, please try our price comparison tool.