Get Forklift Prices
Man Lift Baskets
Man Baskets – Increasing Your Forklift's Productivity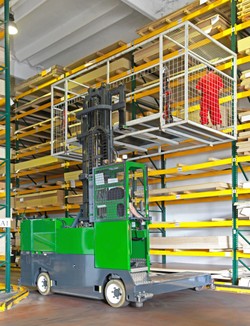 Just as the name suggests, a man lift basket for a forklift provides a stable work platform for tasks that are located in high and/or hard-to-reach locations. A well designed forklift man basket will turn your truck or telehandler into a mobile service elevator that will enable your staff to safely perform tasks at heights that would otherwise require a scissor lift, ladders, scaffolding or suspension systems.
For example a man basket or lift can be used in a variety of commercial, industrial and construction settings to:
Pick orders or count inventory
Change light bulbs/repair light fixtures
Perform factory/warehouse maintenance
Paint or install building signage
Clean multistory windows
Assist in installing overhead vent work and plumbing
Clean, service or repair elevated parts of machinery or equipment
Take a moment and think about how you are currently handling installation, maintenance and repair issues located at height today. What is the labor cost? How long does it take? Most importantly, how safe are the methods you are currently using?
Man Baskets can save you time, increase productivity and provide exceptional safety to staff or contractors who have to work at height.
Man Baskets – Description and Operation
They're called baskets but they are really flat platforms with safety railings and a gate (or two). The frames are typically welded steel with steel tubing forming the railing. Decks are made from steel or replaceable plywood covered with non-slip material. Better man baskets have a 4" kick plate running around the base of the platform to prevent tools or materials from being accidentally pushed off.
Platforms come in a variety of sizes. You'll make your decision based on the length of your forks, the capacity of your truck and whether you want a platform that can accommodate one or two people. Obviously the larger the platform the more expensive it will be but it will typically have a greater load capacity as well.
Installing the man basket on your forklift or telehandler is a snap. Under the platform you'll find the slots for your forks (make sure your basket will accommodate the entire length of your fork). The operator inserts the forks in the slots which are then secured with pins and a safety chain. The whole process takes less than 10 minutes.
Obviously if you have a human being on the end of a boom 55' in the air OSHA and ANSI are going to have something to say about how you perform that task. Man baskets comprise 4% of all accidents involving industrial powered trucks (forklifts) and almost all of those accidents are caused by the human element rather than equipment failure.
The most common causes of accidental injury or death are caused by:
Failure of the basket worker to properly wear safety harness and tether
Gate not properly secured
Unexperienced or poorly trained forklift operator
Objects falling from basket hitting pedestrians below
Like all attachments that are not included as original equipment, OSHA requires that a letter from the manufacturer be present authorizing the use of a specific basket manufacturer and model.
What's the Alternative to a Man Basket?
Generally speaking OSHA and most likely your workman's compensation carrier would prefer you use a task specific vehicle/device rather than a forklift to elevate personnel. Obviously they don't say you can't use man baskets but they encourage employers to look at other means.
There is a very large aerial work platform (AWP) market and it is crowded with man lift products ranging from "push around" electric models that are towed or pushed into place and have a maximum height of 17' and load capacity of 320 lbs., to internal combustion engine, rough terrain, scissor type lifts capable of a working height of 60' and a capacity of greater than 4000 lbs.
The principal advantage of these products is they do not require a "driver" to operate; the worker is also the driver/operator. With a man basket you need a driver to lift and lower the basket as well as transport it to the desired location. A man basket will tie up a truck and a driver while the worker performs his or her task.
The downside of AWPs focuses around performance and price. The low end, towed or pushed electric models have limited capacity (typically 300 to 325 pounds) and limited service time before the battery needs to recharge. Prices on these models start around $3,000. The high performance, self-propelled, models have superior performance but run between $40,000 and $80,000 and of course will have their own maintenance cost as well.
Is a Man Basket Right for Your Needs?
Man baskets are comparably inexpensive starting at about $550 and running up to $3,000 for a large, top of the line platform. The real cost of the man basket is the labor expense of the driver, the loss of productivity of the forklift, and the potential cost of an accident.
If your requirement is having people work at elevation periodically to perform maintenance or minor repairs, the basket would appear to be your solution. However, if working at height is a frequent activity, an aerial work platform might be a better investment. It won't take long for the wages and benefits of the driver handling the man basket to add up to the cost of an appropriate AWP.
For more information regarding man baskets please visit our Forklift Price Quote Tool.