Get Forklift Prices
Forklift Safety Protects Your Business
How Forklift Safety Can Protect Your Business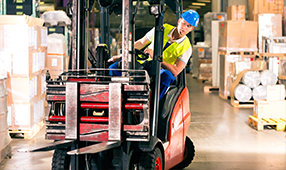 According to the Occupational Safety and Health Administration, forklifts are responsible for an estimated 85 fatal accidents each year. And this isn't even taking into account forklift injury, totaling in at a whopping 34,900 serious injuries and 61,800 non-serious injuries.
In the US, 11% of all operating forklifts will be involved in an on-the-job accident each year.
The importance of forklift operation safety classes
In light of these sobering statistics, lift truck safety on a job site is a must. Instead of placing employees in potentially dangerous situations with machinery that they may not know how to handle, a forklift operation safety class can be used to provide accurate preliminary training.
Even though it may seem counter intuitive to shut down a job to offer forklift training, there are several immediate benefits you can receive:
Save money. Regular forklift training will help to lower insurance costs considerably and can also help to ease wear and tear on equipment that could lead to job site downtime.
Promote workplace safety. Forklift class instructors estimate that machinery training can improve operator performance and safety by up to 70%. The majority of forklift accidents are a result of operator error.
Comply with government regulations. Law mandates that an employer must ensure that employees are competent enough to operate a powered industrial truck with the necessary safety precautions. Violation of said training could result in as much as a $70,000 penalty.
What to expect from a forklift safety class
Forklift safety classes are available from a number of manufacturers and organizations. Before choosing a class, it's important to check that it is OSHA compliant to provide the proper operator certification.
A typical forklift operation safety class may include topics like:
Understanding a lift truck
Industrial lift truck physics
Lift truck operation
Lift truck safety
Lift truck maintenance
Lift truck refueling and recharging
The National Safety Council also provides an OSHA compliant NSC Lift Truck Operator Training Program, complete with a 90 day safe and smart guarantee, to include:
Packaged training course
On-site training
Classroom training
Initial packaged training course materials can be used in a one-day employee training program. From there, NSC can provide on-site training in a company's location. The program is complete with classroom training for lift truck operators to meet OSHA safety requirements in a four-hour seminar.
Depending on the level of instruction provided, forklift operation training classes could range from $299-$555. Before purchasing a safety class of this kind, check that forklift certification training meets OSHA Powered Industrial Truck (Forklift) Standard 1910.178 to protect your investment.