Get Forklift Prices
Fleet Management
Forklift Fleet Management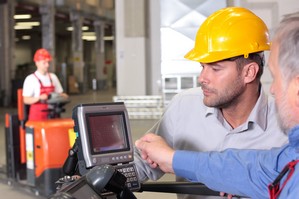 The strategic use of heavy machinery in a warehouse or construction setting could mean reduced overhead costs at the end of each quarter. The concept of fleet management is designed to improve efficiency; a well-executed fleet management plan can increase productivity, reduce day-to-day costs, and even improve safety.
What is a forklift fleet management plan?
If you've ever heard the saying, "You're only as strong as your weakest link." then you'll appreciate fleet management. Fleet management can be used to analyze the current status of a fleet of lift trucks to identify any areas that need improvement.
Some common areas of weakness may include:
Old/outdated equipment
Lift truck abuse
Under-used utilities
Unanticipated maintenance expenses
All of these factors work together to pinpoint how lift truck use can be improved to minimize costly maintenance and repair needs, like truck damage, breakdowns, and replacement. Gathering data leads to greater fleet awareness. Understanding and anticipating common lift truck issues before they happen can provide more opportunities to explore repair and replacement alternatives to keep costs low.
If you're ready to create a fleet management plan, here are several guidelines to get you started:
Set objectives as to how and where data will be recorded.
Generate regular reports to ensure accurate data tracking.
Stick with one uniform data recording protocol, i.e. software or manual tracking.
Analyze data regularly to identify areas of improvement.
Make necessary changes and adjustments to minimize expenditures.
Though lift truck fleet management is hardly a new concept, many businesses are still trying to gain their footing when executing a plan. According to a recent fleet management survey, four out of five fleet managers gather performance data, but only 59% rely on fleet management reporting to make major purchase decisions, like replacing a truck. Creating and adhering to a fleet management plan is the only way to see benefits from gathering data on-the-job.
Outsourcing lift truck fleet management
If creating a fleet management plan is out of your wheelhouse, you can consider outsourcing the task to a third party. Lift truck fleet management services take care of time-consuming tasks like data collection and analysis and provide a business with regular expense reports.
A third-party service may start from square one to develop a unique fleet plan for your business. The primary goal of a fleet management plan is to execute daily operations at the lowest cost per hour. Plan stages may include auditing, advisement, implementation, and long-term measurement.
Other vendors provide fleet management software systems for this purpose. Fleet management software will use the same step-by-step protocol to analyze a forklift fleet and offer suggestions for more cost-effective management, maintenance, and configuration. Purchasing a fleet management software database may start at $449 for single user access, up to $6,999 for unlimited warehouse use.