Get Forklift Prices
Rough Terrain Forklifts
A Guide to Rough Terrain Forklifts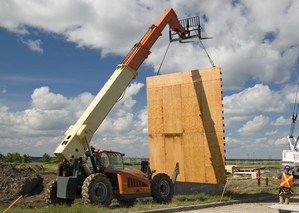 When you have a requirement to move material across uneven, difficult terrain, and safely lift it 40 feet in the air, then you need a Rough Terrain Forklift (RTF). This class of forklift provides material handling capabilities in conditions that a standard sit-down counterbalance forklift simply can't. The rough terrain forklift provides a stable platform that can traverse open ground and lift upwards of 20,000 lbs. even on a grade.
Work Applications for Rough Terrain Forklifts
When you think about RTFs think about moving big, heavy items across the great outdoors. That general description of the RTF's mission fits a wide array of industrial, commercial and agricultural needs whose requirements could not be met without a materials handling machine with extreme capabilities. A few examples of RTF applications include:
Moving, stacking, and loading construction materials like bricks, steel beams, and highway drainage pipes kept in outdoor storage lots.
Lifting and loading one ton bales of hay onto a flatbed hayrack in a farmer's field.
Lifting a bucket full of concrete to the second floor of a building under construction.
Lifting, loading, and spotting cargo containers in ports or distribution centers.
Picking and stacking power boats in multi-story marina storage areas.
Rough terrain forklifts are not consigned exclusively to the outdoors. They can be used in warehouses and manufacturing plants that have heavy lifting needs provided there is adequate space for the RFT to maneuver. Generally speaking however, rough terrain forklifts are deployed when the operating surface prevents standard forklifts from performing safely.
What Makes a Rough Terrain Forklift Different from a Standard Forklift?
When you park a standard forklift next to a RFT several obvious differences will appear but the first will probably be the tire size. Standard lift trucks typically have four uniformly sized tires of the same width. RTFs have significantly larger front tires that support the heavy lifting while using smaller tires at the rear for steering.
Tires on an RTF are almost always pneumatic with deep treads. Foam filled pneumatics are available when surfaces represent a serious puncture threat. Unlike standard trucks that operate on relatively smooth surfaces, rough terrain forklifts are used on gravel lots, plowed fields, hillsides, bogs and rough cut construction sites as well as paved surfaces. As a result, the selection of tires available to RTFs is diverse and includes many variants of all terrain and road ready tires in varying widths.
The second feature that is quickly noticed is the size of the straight mast (or lack of mast as we will discuss in a bit) compared to a standard forklift. Generally speaking straight masts will be wider and in many cases, be able to reach higher than a standard lift truck thanks to two and three stage masts (for lift height and specs see the table below). The forks may also be longer depending on the type of material it is handling. The masts themselves will typically be made of rolled steel and all the hydraulic hoses will have additional sheathing.
All RTFs are IC and generally are powered by diesel engines; some of them turbocharged creating over 200 hp. These larger power plants aren't designed to make the RTF a racing machine, but rather provide the "oomph" required to quickly lift and lower high capacity loads.
There is a subset of rough terrain forklift known as "telehandler" (telescoping materials handler) that would not be confused for a sit-down, counterbalance forklift. For starters it has no mast. The Telehandler uses a boom to raise and lower its cargo and can reach heights that often eliminates the need for a small crane.
The telehandler is an exceptionally versatile vehicle that can create a solid lifting base on a grade by tilting itself left or right to get the boom on a flat plane. This machine can also traverse laterally thanks to 4 wheel steering. This means the business end of the boom can remain at a right angle to a building while the telehandler moves left or right eliminating the need to backup, turn, travel, and turn again.
Three companies, Manitou, Dieci, and Merlo have an interesting "twist" in the telehandler called the rotating telehandler. This vehicle offers all the capabilities of a rough terrain telehandler but adds one more dimension; the boom can rotate 3600. This means that once you have established stabilization, you can lift to a structure in front, either side or behind you without moving the truck.
The downside of this model is that it requires significantly more training before an operator is ready for prime time.
Major Rough Terrain Forklifts Brands
There is a fair amount of competition to select from when considering buying a heavy duty, rough terrain forklift or telehandler. Listed below are some of the better known brands that offer the machines along with basic specifications for their most popular model:
Sellick: Best known for their rough terrain S Series with a lift capacity of 6000 to 12,000 pounds, designed with visibility and operator comfort in mind. Lift trucks are fully equipped with SEE-THRU high-visibility two or three-stage mast assemblies with standard side-shifting.
JCB: Manufacturer of the RTFL Series with a lift capacity ranging from 6000 to 10,000 pounds. Their most compact rough terrain truck model features a four speed single mesh gearbox with Max-Trac for better driving control on unsteady ground.
Master Craft: Rough terrain lift trucks available in 5000 to 20,000 pound capacities with independent braking and optional four-wheel drive. Larger 20,000 pound capacity forklifts feature either a Caterpillar turbocharged/charge air cooled diesel engine or Perkins turbocharged diesel engine for better performance.
Case: Most recently launched their H series rough terrain forklift, designed with improved productivity and fuel economy. The trucks also feature higher performance lift capacities ranging from 6000 to 8000 pounds.
CAT: Recently CAT introduced a new and improved line of telehandlers for the North American market. Focused on flexibility, CAT's telehandlers can accommodate a range of hydraulic powered tools like bucket and bins as well as the traditional forks. Equipped with stabilizers, the machine can provide heavy lift support in the most difficult of terrain.
Here are a few specs for these brands:

| Brand | Model | Lift Capacity | Max Lift Height | Mast Stages | Engine |
| --- | --- | --- | --- | --- | --- |
| Sellick | S 120 | 12,000 lbs. | 271 inches | Two or Three | EcoMax T4i |
| JCB | JCB 940 | 8,800 lbs. | 264 inches | One or two | EcoMAX T4 |
| Master Craft | 20-974 | 20,000 lbs. | 192 inches | Single stage | Caterpillar C4 |
| CASE | 588H | 8,000 lbs. | 207 inches | One or Two | 3.4 liter FPT engine |
| CAT | TL1255C | 12,000 lbs. | 651 inches | telehandler | Caterpillar C4 |
Like standard forklifts, rough terrain forklift manufacturers and dealers do not publish prices for new equipment. However, you can get a feel of what to expect from these recently sold USED rough terrain forklifts:
2000 Eagle with 5,000 lbs. capacity for $18,445
2006 Ingersoll Rand with 5,000 lbs. capacity for $32,500
2007 JCB with 6,000 lbs. capacity for $25,300
2004 Sellick with 6,000 lbs. capacity for $19,500
If you would like to pursue pricing further we can help with our Forklift Pricing Tool.