Get Forklift Prices
Propane Forklifts
How to Save on Propane Forklifts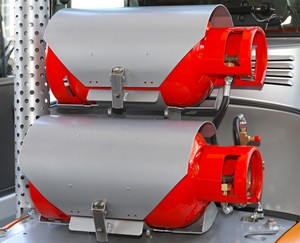 Propane forklifts offers several advantages over electric, diesel, and gas-powered equipment. Propane is the most portable fuel available for powering forklifts and other types of construction equipment. A propane forklift can be used on virtually any type of work site, indoors or out.
How propane forklifts work
Propane forklifts are powered by internal combustion engines that slowly burn propane gas from an on-board tank at a very low temperature. They're very efficient when compared to diesel or gas lifts, although they're not available in the higher capacities those models can reach.
Most propane forklifts are designed with heavy-duty wheels and hydraulic cylinders that lift and lower a set of forks to carry a load. They can carry various types of loads across almost any surface: dirt or gravel at construction sites, asphalt roads, or concrete floors in a warehouse.
Key benefits of using a propane forklift
Propane can be used to power forklifts both indoors and out, because they produce relatively little pollution. A propane forklift has a cost advantage over diesel-powered, gasoline, and electric forklifts because propane is a much less expensive fuel. Other key benefits of using a propane forklift include the ability to:
Push and lift heavier loads than many electrically-powered forklifts
Maintain a steady ground speed for longer periods of time than other forklifts
Provide consistent power
Change or replace the propane power source in as little as 5 minutes
Move between indoor and outdoor locations – ideal for loading docks, recycling centers, and other indoor/outdoor operations
Investing in propane forklifts
Propane forklifts are commonly used on construction sites and in warehouses. Since purchasing a propane forklift can be a large capital investment, you may consider buying a used forklift to save on the expense. Another option for construction or project managers is to rent or lease a propane forklift from a construction rental company.
The only other investment required with propane forklifts is the propane gas tank. These are available in several different sizes to suit your needs, and represent a much smaller expense than a battery changing station or a gas or diesel pump and tank.
Find reliable propane forklift dealers near you in just a few minutes: try our free request for price quotes service and you'll be connected to multiple dealers in no time.