Get Forklift Prices
Pneumatic Forklifts
Buying Considerations for Used "Pneumatic Forklifts"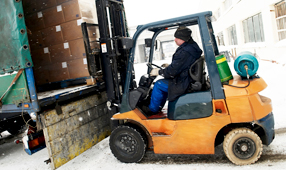 When you hear the term "pneumatic forklift" it often conjures up an image of a rugged lift truck riding on tough looking tires that look like they belong on a semi or other industrial, over the road truck. "Pneumatic forklift" is not a class of forklift; it is simply a term that describes the type of tire mounted on the truck.
So why is the term so frequently used to describe a forklift, even by manufacturers and used truck dealers? Most likely the answer is that trucks with pneumatic tires are principally used outdoors or on rough terrain and by calling the forklifts "pneumatic" it distinguishes them from trucks equipped with cushion or polyurethane tires which are used on lift trucks best suited for indoor work on smooth surfaces.
If you are in the market for a used "pneumatic forklift" we think you'll find it helpful to learn the basic pros and cons of these types of lift trucks.
The Pneumatic Tire Difference
The environment that a forklift works in dictates the type of tires it will use. We've mentioned that cushion and polyurethane tires are used indoors on standard counterbalance trucks as well as a wide array of specialty vehicles like order pickers, reach trucks and very narrow aisle trucks. The rock hard cushion and polyurethane tires are far more efficient for warehouse surfaces having less "drag" and being able to turn on a dime.
That doesn't mean that trucks equipped with air filled pneumatics can't perform in a warehouse; they just can't perform as well as the solid tires. Conversely, lift trucks with solid tires would be quickly torn up if they were used on other than a dry, smooth warehouse floor.
With a sturdy rubber base material to protect the air-filled interior, forklifts with these larger pneumatic tires are built to withstand the elements. "Pneumatic forklifts" are the right choice for lumber yards, constructions sites, outdoor storage yards, or anywhere the ground is rough, uneven, or likely to be scattered with debris that can damage more delicate tires. The pneumatic tires also stand up well to extreme temperatures, so you can rely on them in all weather.
Operational Advantages and Disadvantages
Forklifts with pneumatic tires are good at what they do but they don't do everything well. Here is a quick rundown on their pluses and minuses:
Durability. Without question the strong sidewalls and thick tread of a pneumatic tire will give you the longest service life of any forklift tire. For rough terrain it is the only tire you can safely use.
Greater Capacity. When forklifts are required to lift heavier loads like stacking containers, moving steel wire or concrete construction elements, pneumatics are the only tires that can safely accommodate the weight.
Operator Comfort. Forklifts do not come with suspension systems. Every bump and vibration is transferred to the operator. Air filled pneumatic tires provide a dampening of those physical stresses on the operator and help prevent him or her from becoming exhausted or developing back injuries.
Traction and Stability. The deep treads of pneumatics provide needed traction when negotiating a rough surface or traversing a grade. The "give" of an air filled tire also provides a more stable platform on rough terrain particularly during lifting.
Easier Maintenance. Pneumatic tires are changed almost identically as a truck. Except for the largest tires, the only equipment required is a lug wrench and a forklift jack. Polyurethane tires are "press on" and require a tire press to pop off the old tire and press on the new. This means buying a tire press or finding a service that can provide a mobile tire press.
Larger Turning Radius. By virtue of their width and radius, pneumatics have a significantly larger turning radius. That's usually not a problem outdoors but is a major problem indoors.
Less Fuel Efficient. Most forklifts equipped with pneumatic tires are powered by internal combustion engines. Because they have a wide footprint, pneumatics create more friction between the tire and the surface than cushion or polyurethane tires. More friction requires more power to overcome which requires more fuel to be expended.
Pricing and Performance
Your first considerations when buying any forklift, new or used, are the basics of capacity and reach. How much cargo can it lift and how high can it lift it. With used trucks there is the added concern of how many hours the forklift has been in operation.
Unlike a new truck, a used truck rarely has a warranty associated with it and you have no idea how conscientious the previous owner(s) were about maintaining the unit. Purchasing a used forklift that has just been turned in at the end of a lease from a dealer can minimize some of your concerns about previous maintenance.
Of course there are many other considerations when evaluating a used truck like condition of forks, mast, engine, hydraulics and brakes and we would suggest you have a qualified forklift mechanic inspect the truck before you purchase.
The principal attraction of used forklifts is the price. If you are only using the truck part time, why pay for "full time" condition?
Here is a sample of "pneumatic forklifts" recently placed on the market:

| Year | Brand | Capacity | Reach | Hours | Price |
| --- | --- | --- | --- | --- | --- |
| 2011 | CAT | 5000 lbs. | 188" | 3452 | $22,900 |
| 2011 | Mitsubishi | 5000 lbs. | 188" | 3734 | $18,900 |
| 2008 | Hyster | 3000 lbs. | 188" | 3942 | $14,900 |
| 2003 | Eagle | 6000 lbs. | 168" | 4051 | $22,500 |
| 2001 | Nissan | 5000 lbs. | 189" | 4900 | $10,750 |
If you are ready to get started on your search for a "pneumatic forklift" we can help you. Just visit our Forklift Pricing Tool and we can put you in touch with the nearest dealer or used forklift trader.