Get Forklift Prices
Heavy Duty Forklifts
Heavy Duty Forklifts – When Your Business Need Serious Load Capacity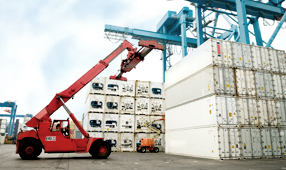 If you are in the market for a forklift and your business moves material that weighs 19,000 lbs. or more, then you should be looking at the heavy duty class of forklift. Actually there is no formal classification for "heavy duty" so we adopted the Hyster definition of "high capacity lift trucks" that includes straight mast and boom trucks that can heft 19,000 lbs. to 100,000 lbs. and beyond depending on the manufacturer.
How do they differ from standard sit-down forklifts? Aside from the significantly greater load capacity, heavy duty trucks generally will be larger, ride almost exclusively on pneumatic tires, have more complex drive trains, much larger masts and forks, and require more training than standard forklifts. While they are bigger and stronger, they can also present their own operational challenges
If your business moves heavy material, we think you'll find this guide helpful in evaluating heavy duty forklifts.
Who Uses Heavy Duty Forklifts?
These trucks are built for organizations that have serious lifting requirements. Examples of industries where the heavy duty forklift is appropriate include:
Steel manufacturing
Sea Ports
Mining
General Cargo
Stevedoring
Pipe handling
Concrete fabrication
Lumberyards
Construction
Aerospace
Imagine a busy seaport with thousands upon thousands of containers that need to be lifted off the wharf and placed on a container truck. Those harbor trucks go to hundreds of businesses where the containers need to be lifted off.
Manufacturers of highway construction elements have reinforced, pre-stressed I beams that need to be lifted off the floor and loaded on a truck only to be unloaded at the construction site. Steel coils, giant concrete viaducts, stacks of plywood, underground storage tanks, virtually all types of heavy materials require handling and that handling is best accomplished with heavy duty fork lifts.
What Makes a Heavy Duty Forklift Heavy Duty
Overall Dimensions
By virtue of the oversized tires needed to support oversized loads, the heavy duty forklift will be taller than standard forklifts making them impractical for offloading cargo from enclosed trailers or other structures that have a limited overhead. Thanks to the reinforced construction and bigger IC engines, the overall dimensions of the heavy lift trucks will be significantly greater than a standard truck. This raises the very practical question of "where do you park these?"
The Mast
Let's start at the business end of the forklift. The mast on a heavy duty truck will be wider and more substantial than a standard lift truck. Because of the extreme loads that are involved, the mast will be reinforced particularly if it is constructed as a two or three stage mast used to reach maximum heights.
The drive axle is similarly "reinforced" with a housing that carries the load rather than the shaft itself.
Given the various shapes and sizes that can make up the load for a heavy duty forklift, most will come with a side shifting fork positioner that allows the forks to be spread further apart or closer together to best match the load.
Some heavy duty forklifts are equipped with booms or jibs that let them reach further, higher and over obstacles. These are ideal for construction sites.
Engines
Heavy duty forklifts use IC engines exclusively and the majority of those are diesel. The extra horsepower generated by these 3 to 6 cylinder engines is required to provide quick rate of lift for the exceptionally heavy loads and sufficient power to climb grades under full load.
New diesel engines have undergone considerable redesigns to make them fuel efficient and compliant with EPA and CARB regulations. Older, used trucks may not be as environmentally friendly and you could find yourself paying fines or providing modifications to the exhaust system.
While diesel engines crank out the hp needed to efficiently handle heavy loads, they also produce heat. Look for separate cooling systems for the engine, engine charged air, hydraulic oil, and transmission oil. While you are at it, check for ease of accessibility to the engine and its components. In some models gaining access is a simple matter of opening a spring loaded cover while others will drive your service technician crazy.
Operator Safety, Training and Comfort
These are big, heavy forklifts and being diesels, they are also noisy. Driving a heavy duty truck is more demanding physically than driving a reach truck in a warehouse. Modern heavy duty trucks place a great deal of importance on operator ergonomics and comfort. The operators of these trucks will not be jumping in and out as a warehouse operator might; they are in for the long haul.
Hydrostatic steering, an advanced joystick, ergonomically designed seats, enclosed cabins with air and heat, and controls located in armrests all contribute to minimizing the physical effort required to operate these monster trucks. Your decision on what is needed for operator comfort will be based on how long he/she will be operating the machine and under what conditions.
Training
These trucks are bigger, more powerful, and handle more challenging loads than standard forklifts. Determining the availability and cost of certified training is an element that deserves serious consideration when selecting a heavy duty forklift. Optimally your dealer will offer training on these models and will be close enough to offer onsite instruction on your machine. An alternative is to hire a new driver who has documented proof of the required training certification.
A Quick Sampling of Heavy Duty Capacities
If you are unfamiliar with heavy duty forklifts, here is a quick look at popular models.

| Brand | Model | Capacity | Max Lift Height | Lift Type |
| --- | --- | --- | --- | --- |
| CAT Trucks | DP160N | 36,000 lbs. | 222 inches | 3 stage mast |
| Hyster | H210HD2 | 21,000 lbs. | 186 inches | 2 Stage mast |
| Toyota | 4FD230 | 51,000 lbs. | 242 inches | 2 stage mast |
Manufacturers and dealers don't publish prices on new forklifts for a number of reasons. However, listed below are asking prices for relatively late model heavy duty trucks:
| Brand | Year | Capacity | Lift Type | Price |
| --- | --- | --- | --- | --- |
| CAT | 2007 | 20,000 lbs. | 2 stage mast | $93,000 |
| Yale | 2007 | 28,000 lbs. | 2 stage mast | $48,500 |
| Hyster | 2003 | 36,000 lbs. | 2 stage mast | $89,900 |
Important Considerations in the Buying Decision
As with any forklift, the purchasing decision comes down to how you intend to use the machine.
The following are three common considerations/questions when considering acquiring a heavy duty forklift:
How much capacity do you really need?
Understanding the maximum load your operation will face and how high that load has to be lifted will determine the capacity you need in a heavy duty truck. The capacities shown on these trucks are based on the load being 8" off the floor. The higher you lift the load, the less rated capacity there is. To know the real capacity of a truck as it is related to your business you'll need to know the load curve.
How often do you need it?
Does your business call for the full time movement of heavy loads or is it an occasional requirement? If you only need a heavy duty forklift once a week to expedite the offloading of a container from a truck, you may want to explore the used market. If however you use this type vehicle every day, you may find a new forklift with its technical improvements may be the wiser investment.
Service and Support
Regardless if you buy new or used, you will want to ensure your dealer has a reputation for integrity and can provide the support you require to minimize downtime of the forklift. Specifically you'll want to learn what type of maintenance and repairs the dealership can perform and the qualifications of the technicians performing them? Are parts and tires readily available? Does the dealer provide certified training, and if so, can he do it at your location using your forklift? In addition you will want to know what (if any) warranty comes with the forklift or parts on the forklift.
In many ways the dealer becomes an important partner in the efficient handling of materials in your business. Select wisely.
If you'd like to pursue heavy duty forklifts further, we can help you find a dealer or a used heavy duty truck with our Forklift Pricing Tool.