Get Forklift Prices
Telescopic Forklifts
Pros and Cons of Buying a Telescopic Forklift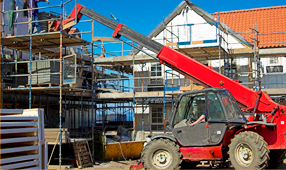 A telescopic forklift is also called a telehandler, and it is a machine that is primarily used for industrial and agricultural purposes. While a telescopic forklift looks similar to a regular forklift, it uses a crane instead of a forklift feature for greater versatility.
How does a telescopic forklift work?
A telescopic forklift works with a single telescopic boom that will reach up and forward from the cab of the vehicle. The vehicle driver can fit the telescopic boom with several attachments to tailor to a specific job site, such as a bucket, a muck grab, a pallet fork, or a lift table.
The most common attachment for a telescopic forklift is a pallet fork used to move loads back and forth from places that a traditional forklift can't comfortably reach.
Telescopic forklifts often provide an advantage because the telescopic boom can reach to remove cargo from a trailer and lift it up to higher locations to unload on a rooftop, if necessary. Normally, unloading on a rooftop would require a crane, which is more expensive and time-consuming than the use of a telescopic forklift.
Limitations of this type of forklift
While its exceptional reach is the main advantage to the telescopic forklift, the telescopic boom can also work as a lever to cause serious instability when operating the vehicle. Of course, a telescopic forklift is equipped with counterweights to ensure driver safety, but the maximum lifting capacity of this vehicle is much lower the farther that the boom is extended.
To give you an example, a telescopic forklift that has a lifting capacity of 5,000 pounds when the boom is retracted may only be able to lift as little as 400 pounds when the boom is extended completely. This limitation is something to take into account when purchasing a telescopic forklift for construction and job site purposes.
Fortunately, most telescopic handlers are equipped with computers in the dashboard that include built-in sensors to monitor both lift and reach capacities. These sensors will notify the driver of any potential danger when lifting a heavy load and will often automatically disengage the forklift controls as a precaution.
To deal with this stability issue, an outrigger can be used to lift the unit and serve as a locking brace to offer a greater width to stabilize a heavy load.
Telescopic forklift prices
Popular telescopic forklift manufacturers include Caterpillar, JLG, Ingersoll Rand, Cat, and Skytrac. Telescopic forklifts can range in price from as little as $25,000 used to as much as $50,000 brand-new. For more expensive new models, financing options are available.
Find out how much you can save on a telescopic forklift – you can get used telescopic forklift prices or lease rates from several authorized forklift dealers.