Get Forklift Prices
Linde
Linde Fork Lift Trucks – Engineered for Productivity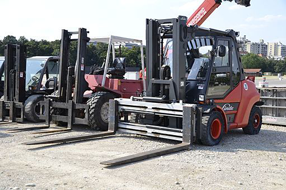 As the largest manufacturer of forklifts in Europe and the second largest in the world, Linde has built a reputation for excellent productivity, durability and innovation thanks to a continuing emphasis on product improvement and balancing performance with price.
Linde is more than a great forklift, with over 6000 service technicians worldwide you can be assured that your Linde product will receive the care and maintenance required. The ultimate goal is to provide the customer with a superior materials handling machine and provide service that will ensure the customer receives maximum value for their investment.
With Linde your productivity is about to go through the roof.
The Linde IC Truck Difference – Hydrostatic Drive
Linde engineers have mastered the technology behind hydrostatic drive and have used it to create some of the most productive IC trucks in the industry.
Unlike most IC forklifts that use torque conversion, Linde's hydrostatic drive relies on fluids to power the two drive motors on the front wheels. The faster the flow of fluid to the motors the faster the wheels turn. The flow of the fluid is regulated by Linde's "two pedal" system in the operator's space. Press down on the right pedal and the truck goes forward. Press the left pedal and the truck goes in reverse. Ease up on a pedal and the flow is reduced slowing the wheels. Remove pressure from a pedal and the wheels stop…or brake.
A hydrostatic drive has no clutch, transmission, differential, creep pedal or brake pedal. It offers the operator unparalleled control of both the forward and reverse motion and the speed of mast in lifts. This comparatively simple design offers a multitude of advantages including:
Fewer parts mean lower maintenance and repair costs.
No transmission or clutch or need to "rev" the engine when lifting means quieter operation.
Automatic braking reduces wear on tires.
Because power goes directly to the drive motors and is not "translated" by a gear box, the hydrostatic drive is more fuel efficient.
For an operator driving a torque conversion truck to pick up a load, transport it to a rack, raise the mast, place the pallet, lower the mast and back away he or she has to perform 10 operations. Because there is no need to apply brakes or creep pedal, an operator with hydrostatic drive can accomplish the same task in 5 moves.
Linde's engineers designed the drive system to have a service life of 20,000 hours.
Twice the productivity, lower maintenance and fuel costs and durability make Linde internal combustion trucks an ideal solution to material handling challenges.
Linde Electric Forklifts – Engineered Solutions
Linde's response to the ever increasing demands of high density storage operations for specialized material handling equipment is a line of versatile, ergonomically effective, highly maneuverable electric trucks and pallet stackers. Designed with optimizing productivity in mind, the Linde electric trucks focus on reducing hand, arm and back movements required of the operator, and efficient operation in narrow and very narrow aisles.
Linde three and four wheel trucks are equipped with a patented drive axle that allow the vehicle to pivot on its center line. In a turn, the drive axel turns the wheels in opposite directions (much like a tracked vehicle uses one tread forward and one in reverse) to minimize turning radius. In narrow and very narrow aisles, as well as tight spaces like containers and truck trailers, this space saving feature adds dramatically to the productivity of the truck.
In busy, high intensity storage and production facilities,
The Linde Line of Forklifts
Whether you are a one truck operation or own a large fleet, work inside or outside, have light load requirements or need to move 20 tons you will find a Linde product built just for your operation. With nearly 60 models of IC and electric trucks, Linde covers nearly every material handling need.
Stacking Trucks
H Series Internal Combustion Models
With five models to choose from ranging in capacity from 3080 lbs. to 17600 lbs. Linde has an internal combustion stacking truck for nearly every material handling task. Equipped with hydrostatic transmissions these trucks provide seamless acceleration, precision load handling and outstanding fuel efficiency.
Heavy Truck
The heavy lifter of the Linde line is the diesel powered H 100D – H180D models. This compact truck with hydrostatic drive and a top capacity of nearly 20 tons is the nimblest in its class. Designed for both palletized cargo and loose heavy load handling, including handling empty containers, these IC workhorses offer high productivity and low operating costs for a wide range of heavy industrial tasks.
E Series Electrical Trucks
From the versatile, standup E 10 to the rugged and powerful counterbalance E 60, Linde's six electric trucks with load capacities ranging from 2200 lbs. to 17600 lbs. provide environmentally friendly, highly productive solutions for stacking challenges of all kinds. Operator spaces have fingertip controls, are vibration free and offer panoramic visibility reducing stress and fatigue. An advanced energy management system ensures economical energy consumption getting more minutes from every charge.
Storage Trucks
Pallet Stackers
Handling pallets for internal transfer, fast truck unloading, and other storage/delivery tasks is an important function of any fast paced warehousing or production facilities. Requirements will vary from facility to facility and that's why Linde offers 11 different battery powered models of pallet stackers ranging from walkies to standup units. With load capacities between 1200 lbs. and 4000 lbs. you are sure to find a pallet stacker that is a fit for your operation.
Reach Trucks
High intensity storage can often mean tall racks and narrow aisles. Line's 5 reach truck models effectively address all the challenges of working productively in tight spaces. With maximum lift heights in excess of 26 feet and a load capacity of 4000 lbs., the reach truck provides the functionality and muscle to get the job done while providing fatigue-free working interface between the operator and the truck. The result…optimum efficiency and productivity.
Order Pickers
Accurate order picking rates are essential to the success of every company engaged in highly competitive industries. Linde offer 8 models of order pickers ranging from low level, easy access/egress units to a man-up picker capable of pulling orders from the tallest rack. Like all Linde models, careful attention has been given to the operator's station to reduce fatigue and increase productivity.
Linde Trucks by the Numbers
| Category | Type | Capacity Range | Reach Range | Turning Radius |
| --- | --- | --- | --- | --- |
| Stacking Truck | Internal Combustion | 2800 lbs. to 17600 lbs. | 150" to 178" | 80" to 122" |
| Stacking Truck | Electric Motor | 2200 lbs. to 17600 lbs. | 86" to 182" | 44" to 120" |
| Stacking Truck | Heavy Duty IC | 20000 lbs. to 38600 lbs. | 163" to 183" | 163" to 183" |
| Storage Truck | Pallet Stacker (electric) | 1200 lbs. to 4000 lbs. | 106" to 131" | 64" to 72" |
| Storage Truck | Reach Truck (electric) | 2000 lbs. to 4000 lbs. | 178" to 316" | 53" to 61" |
| Order Picker | Order Picker (electric) | 2200 lbs. to 4000 lbs. | 5" to 254" | 93" to 102" |
Whatever your material handling process is it's safe to say you'll find a Linde truck to fit your needs.
With over $6.1 billion in worldwide sales you can understand why Linde has a reputation for innovative design, reliability and durability, Linde is a brand that you should at least explore if you are considering a forklift acquisition. We can assist you with that task. If you visit our Forklift Locator tool we can direct you to your nearest authorized dealer and to a listing of used Linde trucks that are currently on the market.