Get Forklift Prices
Komatsu
Used and New Forklift Komatsu Prices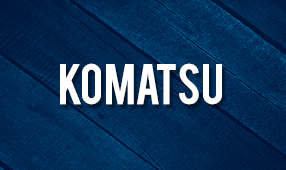 Komatsu forklifts are manufactured by Komatsu Ltd., a company that began as a construction and mining manufacturer in Japan in 1921. Komatsu was responsible for introducing the first modern bulldozer and farm tractor to Japan. This article is a guide to Komatsu forklift models, features, used and new prices, and leasing and renting options.
Types of Komatsu forklifts
Internal Combustion: Internal combustion Komatsu forklifts are available as either cushion or pneumatic models. Cushion models have lift capacities of 4,000 to 6,500 pounds. IC Cushion forklifts are used for indoor purposes, offer improved visibility, and operate quietly to minimize noise pollution. Speaking of pollution, all Komatsu forklifts are equipped with clean air technology to minimize exhaust emissions on a jobsite.
IC Pneumatic forklifts range in lift capacity from 3,000 to 3,500 pounds, 4,000 to 7,000 pounds, 8,000 to 11,000 pounds, 15,400 to 18,000 pounds, and 22,000 to 35,000 pounds for heavy loads. IC Pneumatic forklifts differ from cushion forklifts since they are used for outdoor purposes. They also operate with clean air technology and quiet efficiency to improve productivity on a jobsite.
Electric forklifts: Komatsu forklifts are available in three wheel electric models in the lift capacity of 3,000 to 4,000 pounds. Four wheel electric forklifts can lift 3,000 to 4,000 pounds, 4,000 to 6,500 pounds, and 7,000 to 12,000 pounds. Last of all, electric standup counterbalanced forklifts are available with lift capacities of 3,000 to 3,500 pounds and 3,800 to 6,000 pounds.
All electric models help maximize the battery life of the vehicle and further promote a clean working environment. Electric driver controls provide further versatility in the operation of the vehicle thanks to the programmable driver systems and multifunction digital displays.
Used Komatsu forklift prices
Used Komatsu forklifts start at as little as $3,500. It's little known that used Komatsu forklifts can be purchased directly from a Komatsu dealer. It's recommended to purchase a refurbished forklift through an authorized dealer as opposed to an individual owner or site like eBay or Craigslist, to ensure that a machine has been safely restored and is in the best working condition. Whether you hope to purchase one forklift or multiple machines, you may be eligible for a financing package that will allow you to affordably pay off your equipment in monthly installments.

$3500 + $75 delivery: "Used gasoline Komatsu forklift, 3000 lb capacity, with new paint, a new seat, new plugs, and new starter ring gear." -Quinlan, Texas
$7900 + $500 delivery: "I bought a 1995 used Komatsu FG25T forklift." -Dent, Minnesota
$13,500: "I got a used Komatsu 5000 lb, 3 stage mast with side shift, solid tires, 800 hours, new paint, LP/gas, with a 90 day warranty." -Centralia, Missouri
$2000 + $700 delivery: "I purchased a used Komatsu FG20ST. The delivery fee was $700." -Canton, Ohio
Find out how much you can save by comparing used Komatsu forklift prices.
Leasing and renting Komatsu forklifts
For businesses on a tight budget, leasing forklifts may be a great option. Leasing a Komatsu forklift for several years saves a business from spending several thousand dollars on brand-new equipment that will depreciate over time. Instead, a business can choose a one, two or three-year lease, and pay off the equipment at their own pace.
Forklift rentals are best for projects that will only last a few months. It doesn't make sense for a business to rent a forklift for more than a few months, because the costs can be higher per month than a longer lease.
You can lease, rent, or buy a used or new Komatsu forklift by using this site – you can get forklift prices or lease and rental rates from several authorized forklift dealers today.